Let me give you a hand with that prototype
Realize, Inc. Robotic Hand Project
Custom Entertainment Solutions needed a hand with a recent project. The Realize team was excited to be their partner in this venture. Brian Cazzell is the Client Success Manager at Realize in charge of their account. We asked him what made this particular prototype concept so cool.
"The cool factor for me is that these rapid prototype parts are durable enough to use in a working robotic hand.  I think the biggest challenge of the project was making sure all of those channels were clear throughout the entire palm where they needed to route their wiring to the fingers.  I took it as a personal challenge when this client first contacted us because he said he was turned down by at least 3 other Rapid Prototyping shops that didn't want to touch this project! He was told it was not possible to manufacture those parts…and we made it happen. He was so excited when he received the parts because he knew that he finally found a viable way to produce his extremely complicated model."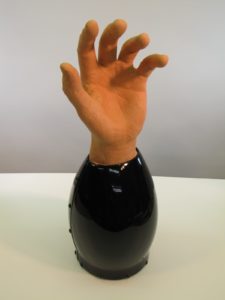 Josh Gray at Custom Entertainment Solutions was pleased with our work.
"Realize came through for us with a new robot hand design that other companies said they could not build. With Brian Cazzell's help inside Realize, not only did they say they could do it, they DID it, and Brian made sure all of the small features and channels were hand-cleared and ready for us to run tendons through. Very complex work and they nailed it!"  Josh Gray, President, CES.
Here is look at the finished product!
http://www.youtube.com/watch?v=UG4arMMdvrw&feature=youtu.be
Search this Blog
Free Download